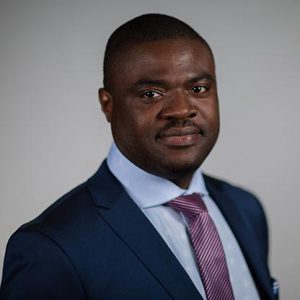 Education
Doctor of Philosophy in Law (DPhil), University of Oxford, United Kingdom
Master of Laws (LL.M), Harvard University, United States
Master of Laws (LL.M), University of Calgary, Canada
Bar Certificate (First Class Honours), Nigerian Law School, Abuja
Bachelor of Laws (First Class Honours), Igbinedion University, Okada, Nigeria
Assistant
Name: Mr. Moronkeji Kolawole
Email: dvc.risp@abuad.edu.ng
Media contact/public affairs: +234 81 40000 988
Twitter: @dvc_risp
Professor Damilola S. Olawuyi, SAN is a Professor of Law and Deputy Vice-Chancellor for Academics, Research Innovation & Strategic Partnerships at ABUAD.  He is also the Director of the Institute for Oil, Gas, Energy, Environment and Sustainable Development at ABUAD. Professor Olawuyi joined ABUAD as a senior lecturer in 2012. Since then, he has provided strategic coordination and management of the OGEES Institute which has now become recognized as one of Nigeria's foremost research institutes on all aspects of energy, environment and sustainable development. He was promoted to the rank of Professor of Law at the age of 32, becoming one of Nigeria's youngest professors of law in history.
A prolific and highly regarded scholar, Professor Olawuyi has practiced and taught law in Europe, North America, Asia, Africa and the Middle East. He has served as a visiting professor at Columbia Law School, New York, China University of Political Science and Law and senior visiting research fellow at the Oxford Institute for Energy Studies. In 2019, he was a Herbert Smith Freehills visiting professor at Cambridge University. He was formerly an international energy lawyer at Norton Rose Fulbright Canada LLP where he served on the firm's global committee on energy investments in Africa. He has delivered lectures on energy law in over 40 countries. He was also formerly deputy director and head of international environmental law at the Centre for International Governance Innovation, Waterloo, Canada.
Professor Olawuyi has published over 100 influential peer-reviewed articles, books, and reports on energy finance, sustainable development law and extractive resource governance. His most recent book publications are: Extractives Industry Law in Africa (Springer 2018) and The Human Rights Based Approach to Carbon Finance (Cambridge University Press, 2016), which has been described by The Rt. Hon the Lord JonathanHugh Mance of the Supreme Court of the United Kingdom as one of the most importantcontributions to international law.
Professor Olawuyi serves on the executive committees and boards of several organizations. He is Vice Chair of the International Law Association globally; co-chair of the Africa Interest Group of the American Society of International Law (2016-2019); and member of the Academic Advisory Group of the International Bar Association's Section on Energy, Environment, Natural Resources and Infrastructure Law (SEERIL). He is the Editor-in-Chief of the Journal of Sustainable Development Law and Policy.
In 2018, he was appointed as an expert Member of the Federal TechnicalCommittee on National Oil Spill Detection and Response Agency Bill, Committee onEnvironment and Habitat, Federal House of Representatives, Government of Nigeria, Abuja.
Professor Olawuyi is a regular media commentator on all aspects of natural resources, energy
and environmental law.